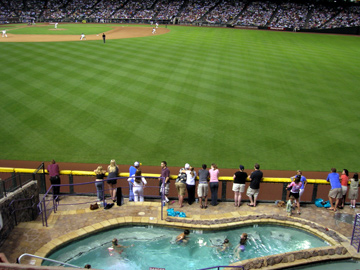 Does anyone else feel bad for Randy Johnson? Seemingly washed up 6'11' LHPs aside, the
oldest man to take a dump
in a major league clubhouse continued his astounding career knocking a RJ fastball
into the hot tub
at Chase Field and stealing a base as well.
The NL Pitcher O' The Month didn't seem to have his best stuff but battled through a 6 IP, 1 ER performance, and the alpaca farmer nailed down his sixth save in six chances by way of the Mets' third DP of the ballgame.
As you would expect Ambiorix made it interesting in the 8th, giving up a home run that should have been a double to the O-Dog. On the play Endy leaped into the stands and seemingly brought the ball back into play (although not catching it), however, it was ruled a HR and replays seemed to indicate that the ball struck a bag of popcorn in a Jeffrey Maier wanna-be's hands after Endy got a glove on it.
Jorge Sosa gets the ball tomorrow night against the reigning NL Cy Young winner Brandon Webb. Sosa has been lights out in AAA so far, apparently because he's been throwing his slider for strikes and working off that instead of his fastball (this according to Gary Cohen and Howie Rose). The most lopsided game on paper so far, but the Mets seem to have magic in the desert.